Carlos' Corner
2017-06-26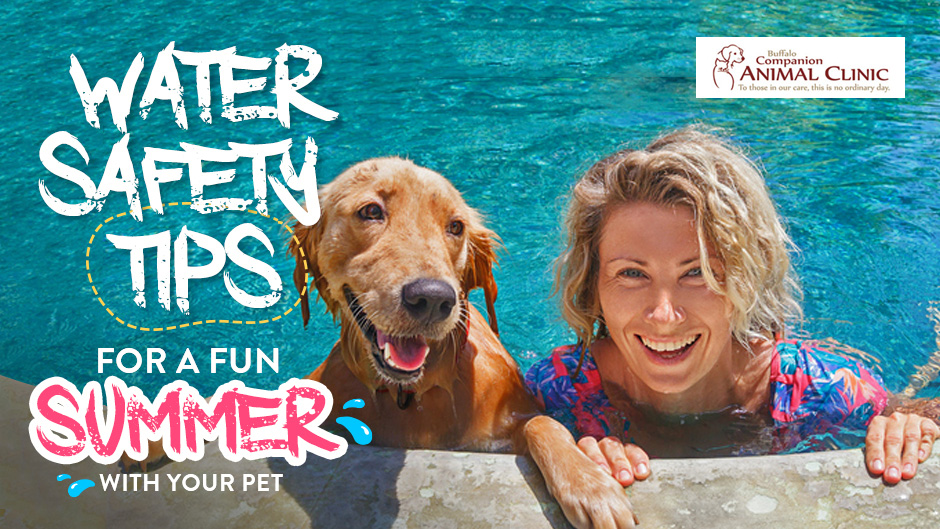 It's officially summer and that means spending more time at the pool and beach. Most cats I know aren't keen on such an experience, but my dogs friends are definitely up for it. I may act cool, but I care about them and their safety. That's why I asked the staff to write some water safety tips for the dog people out there.
Take Care,
Carlos
It can be a dangerous assumption that your dog will instinctively know how to swim in all situations. While some breeds are natural swimmers, others must be taught how to swim. Other breeds, including those with a large ratio of chest to hindquarters or a short muzzle, don't have the body type to survive in the water. It's up to you to know your dog's limits and to take precautions to keep her safe. If your dog has never gone swimming before, you may want to schedule a
preventive care exam
to ensure that she's physically up to the challenge.
Introducing Your Dog to Water
We recommend starting small when it comes to teaching your dog water safety skills. The first time you go to the lake or pool together, go into the water with your dog and note if he seems comfortable with the situation or not. The water should not be more than a couple of feet deep. You can take it as a good sign if he starts paddling right away, but you should still position yourself no more than a few feet away. This allows you to grab your dog if he suddenly starts sinking.


Increasing the distance from your dog and time spent in the water are simple ways to get her to feel comfortable with swimming. However, you still need to supervise your dog any time she is in or near water. Unpredictable situations, such as a bird flying nearby, could cause her to get overstimulated and chase after the bird. This could quickly land her in water over her head. It's also important to teach your dog not to enter the water until you have given the command and to come at once when you call her to get out of the water.


Safety When Boating
Dogs often enjoy riding in the boat with their human families, just as they do in the car. If you choose to bring your dog out for a ride, make sure that you put a life jacket on him first. He will come to accept it as part of the routine if you consistently put the life jacket on before you even reach the boat. If he does go over the side of the boat, use a floatation device to pull him back in rather than risk your own safety by jumping in the water.


If you plan to hit the beach a lot this summer, make sure that you dog has a
microchip
in addition to a tag and collar. This improves your chances of reuniting if case she gets lost. If you think your dog might suffer from motion sickness on the boat, be sure to ask us for advice on preventing it before you set sail. Buffalo Companion Animal Hospital wishes you and your dog a safe and happy summer together.