Carlos' Corner
2016-04-21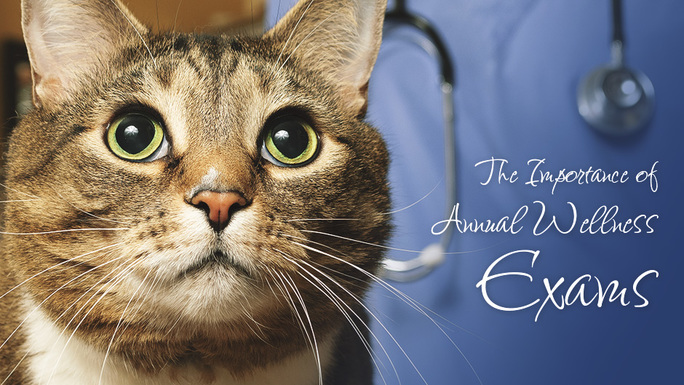 Hey dog and cat parents, it's Carlos here. Even though my friends might act like they don't like coming to see the fine folks at Buffalo Companion Animal Clinic, they're secretly flattered that you care so much about their health that you bring them in for a yearly check-up. You get your pet into the car, and I'll tell them to play it cool once they get here. Sincerely, Carlos
Many pet owners don't visit the veterinarian unless their dog or cat is sick or injured. However, pets need regular wellness exams just like people do. This gives the veterinarians at Buffalo Companion Animal Hospital the opportunity to detect the symptoms of illness or chronic health conditions as early as possible. Regular wellness exams can even extend your pet's life. When you consider how much enjoyment your dog or cat brings you, an investment in preventive care is well worth the cost.


How Often Do Companion Animals Require a Check-Up?
Adult pets between one and seven years of age who are normally healthy should come in once a year for a wellness exam. Senior pets benefit from a bi-annual exam since they age at a much faster rate than humans do. This is the time we start looking for such issues as kidney disease, diabetes, arthritis, and hip dysplasia. Puppies and kittens require several appointments during their first year to get started on a vaccine schedule.


The core vaccines for dogs include are rabies, canine parvovirus, distemper, and canine adenovirus, which protects against respiratory disease and hepatitis. Cats receive vaccines for rabies, feline panleukopenia, rhinotracheitis, and feline calicivirus during their first year. Our veterinarians also discuss several non-core vaccines for your pet during wellness exams. We consider his species, breed, age, and lifestyle before making a specific recommendation. We highly encourage all clients to have their pet spayed or neutered by six months of age.


What to Expect at Your Pet's Appointment
Your pet may receive a booster for a vaccine or a new vaccine if she's not up-to-date. This appointment is the ideal time to discuss control of fleas, ticks, heartworm, and other common parasites. We will check for parasites as well as offer a recommendation on how to control them. Next, our veterinarian will complete a head to tail exam of your pet. Some of the specific things we look for include:


Urinary issues, including unusual discharges and problems with the mammary glands
Skin and coat problems, such as hair loss, anal sacs, shedding, and pigment changes
Limping, weakness, torn toenails, or other problems with the legs and feet
Discharge, redness, or itching from the eyes or ears
Problems with the teeth, mouth, or gums
Nasal discharge, sneezing, coughing, or other indications of allergies or breathing issues
Indications of stomach or intestinal problems, including vomiting, diarrhea, or other abnormal stools
If your pet's veterinarian has concerns after checking all of the above areas, he or she will order blood tests or other diagnostic testing. We will let you know the results and the follow-up plan as soon as possible. Feel free to bring up any questions you have about your pet's behavior, nutrition, weight, or exercise habits at this exam as well. Please contact us to request a wellness exam if your pet isn't already on a regular appointment schedule.

Photo Credit: Your Nikon Man/iStock Photo