Pet Health Articles
2017-07-11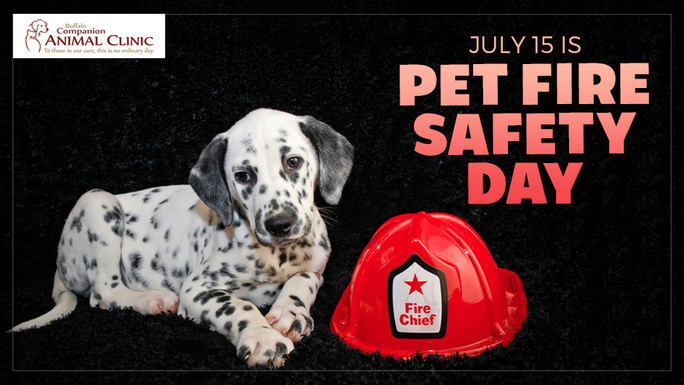 I will let you in on a little secret: dogs and cats can be quick and mischievous. Okay, so maybe it's not such a secret that we're curious and can get into trouble in a hurry without your help. This Pet Fire Safety
Day, be sure to think like a dog or cat and pet-proof your house so we don't accidentally start a fire.
Best,
Carlos
Several years ago, the American Kennel Club (AKC) and ADT Security Services started an awareness campaign called Pet Fire Safety Day on July 15 of each year. This was in response to the alarming statistics about pets and fires. Did you know that companion animals start approximately 1,000 home fires every year? Even more startling, 40,000 pets die in fire-related incidents each year and another 500,00 receive some type of injury. Many of these fires are in the home, but they can also be burns received in a
backyard barbeque
or accidental contact with another form of heat or fire.
Tips to Prevent Your Pet from Becoming a Fire Statistic
One of the easiest ways to prevent a serious fire in your home is to install a smoke detector on every level. However, that only alerts you to a fire after it has already started. We recommend taking the following actions to prevent fires and unsafe situations for your pet in the first place:
Walk around your home with your pet's mindset and look for areas where you need to pet-proof. The stove is a common example. A dog who is excited to see you at the end of a long day could easily jump up and bump a burner with his or her paw. Loose wires are another potential way that your pet could start a fire. Additionally, make sure that you keep all hot items like curling irons and heating pads out of your pet's reach.
Never leave your pet unsupervised around an open flame. Whether you're cooking on the stove or burning candles to get a nice scent in the house, extinguish flames when you're done and don't allow your pet to approach the fire source.
When you must leave pets home alone, put them in a room or entrance near the front of the house where a firefighter could reach them more easily. You should also check to make sure they're not located near any fire hazards when you leave the house.
Place a window cling or note on your door that states the number of pets inside in case of an emergency. Both AKC and ADT offer free window clings and you can find them at community safety events as well.
Create a Fire Escape Plan That Includes Your Pet

We have written before about the importance of
preparing for disaster
before it happens. This includes the possibility of a house fire or burn injury. Make sure that you have a first aid kit prepared for your pet and keep an extra leash and collar by the front door that you can grab quickly. These precautions don't take long to implement, but can make a life or death difference for your pet. If your pet does sustain injuries in a fire, please contact Buffalo Companion Animal Hospital immediately for treatment.
Photo Credit: JStaley / Getty Images