Our Veterinary Staff
Buffalo Companion Animal Clinic is proud to serve the Buffalo, MN area for everything pet related. Our veterinary clinic is run by licensed, experienced veterinarians.

Our team is committed to educating our clients in how to keep your pets healthy year round, with good nutrition and exercise. Buffalo Companion Animal Clinic stays on top of the latest advances in veterinarian technology and above all, remembers that all animals and pets need to be treated with loving care in every check-up, procedure, or surgery.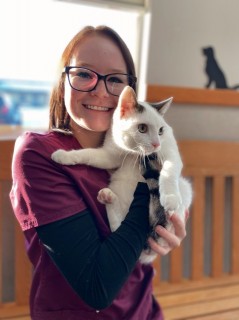 McKenzie, Veterinary Assistant
McKenzie is currently in school working towards getting her degree in Veterinary Technology. After she graduates, she hopes to become a CVT at BCAC! Outside of work, McKenzie enjoys spending time with family, friends, and her two cats; Aria and Copper!
Morgen, Veterinary Assistant
Morgen's love for animals made her interested in joining the Buffalo Companion Animal Clinic team. Outside of work Morgen loves watching and playing slow pitch softball, crafts, and kickboxing.