Our Veterinary Staff
Buffalo Companion Animal Clinic is proud to serve the Buffalo, MN area for everything pet related. Our veterinary clinic is run by licensed, experienced veterinarians.

Our team is committed to educating our clients in how to keep your pets healthy year round, with good nutrition and exercise. Buffalo Companion Animal Clinic stays on top of the latest advances in veterinarian technology and above all, remembers that all animals and pets need to be treated with loving care in every check-up, procedure, or surgery.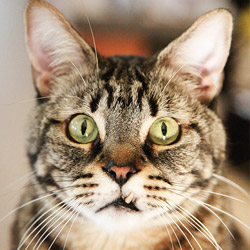 Carlos El Gato, Clinic Cat
Carlos' charm and captivating appeal with the patients and clients have made him a favorite around BCAC. He has been featured in our holiday card and has been an inspiration to a local artist. Carlos' outgoing personality and genuine concern of his fellow furry friends has inpired many new friendships.
Judy, Clinic Cat
Since we don't have a crabby old book keeper, we have Judy.