Our Veterinary Staff
Buffalo Companion Animal Clinic is proud to serve the Buffalo, MN area for everything pet related. Our veterinary clinic is run by licensed, experienced veterinarians.

Our team is committed to educating our clients in how to keep your pets healthy year round, with good nutrition and exercise. Buffalo Companion Animal Clinic stays on top of the latest advances in veterinarian technology and above all, remembers that all animals and pets need to be treated with loving care in every check-up, procedure, or surgery.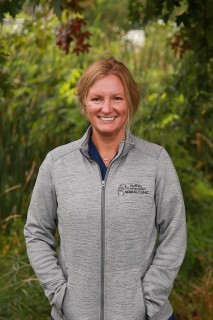 Heather, CVT
Heather went to the Minnesota School of Business where she earned her veterinary technology degree. She spent 5 years working at a local shelter and 5 years as an emergency technician before settling in to the Buffalo Companion Animal Clinic where she enjoys working with the many cats and dogs she has grown to love. Her interests include pain management and educating clients on the many aspects of animal care. When not at work, Heather enjoys photography, gardening and hanging out with her husband, dog and 2 cats.
Kim, CVT
Kim's love for animals was apparent while working for several years at a dog boarding facility. It was there that she was encouraged to take her care for animals a step further by enrolling in a veterinary technology program. After graduating from the Minnesota School of Business in 2006, she became part of the Buffalo Companion Animal Clinic team. Kim also has a love for art and has created a few different pieces to help promote animal wellness throughout the clinic. Outside of work, she enjoys spending time with her husband, 2 young children, family, friends, 3 cats, and a new wild haired dog that goes by the name "Birdie."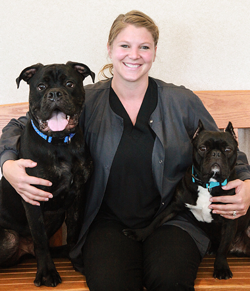 Mandy, CVT
Mandy received her degree from Argosy University in veterinary technology. She started at Buffalo Companion Animal Clinic as a veterinary assistant before graduating and has grown into a dedicated, hardworking technician. Mandy is interested in client education, anesthesia, and surgical procedures. When not at work, she spends her time with her husband and 3 children riding their ATVs, going to the cabin, and hanging out with family and friends. Mandy has a French Bulldog named Gurt and an Old English Bulldog named Vinnie. Both dogs enjoy hanging out and being a part of their family excursions.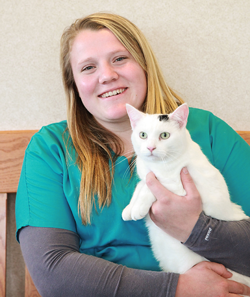 Kaitlin, CVT
Kaitlin worked as a veterinary assistant at Buffalo Companion Animal Clinic while attending Ridgewater College for her degree in veterinary technology. After graduating in 2015, she joined the BCAC team as a certified technician. Kaitlin grew up on a dairy farm. At a very young age she acquired a love for helping and caring for animals. Outside of the clinic, Kaitlin enjoys spending time with her family and dog, Mack, on their hobby farm.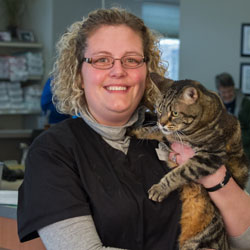 Kelly, CVT
Kelly had a unique childhood growing up on an exotic animal farm. This upbringing drove her love for animals. She earned her AAS degree in veterinary technology from Willmar Technical College. After graduation Kelly worked here for a short time. She then followed her heart to a zoological garden. Since then she worked with a traveling petting zoo and eventually found her way back to the BCAC. Kelly loves dentistry and comforting those in need. Outside of work she enjoys photography and spending time with her very active family.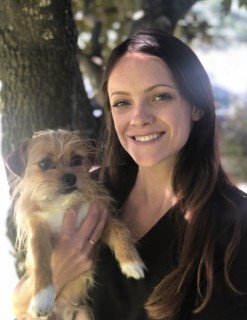 Paige, CVT
Paige joined the Buffalo Companion Animal Clinic in 2018 after receiving her veterinary technology degree from Argosy University. Before joining BCAC, she worked at a boarding facility for 3 years. Paige has loved animals since a very young age and has always wanted to work in veterinary medicine. She is interested in internal medicine, animal behavior, surgical procedures and anesthesia. Outside of work, Paige enjoys the outdoors and spending time with family and friends. She has a dog named Rico and 2 cats, Lucy and Sally.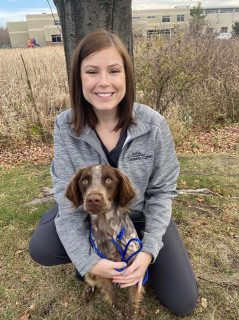 Janna, CVT
Janna graduated from Ridgewater College as a Certified Veterinary Technician in 2008 and joined BCAC in 2022. A majority of her career has been spent in small animal practice. The favorite part of her job is being able to help people with their fur-babies, whether it be surgery or hospitilization or just routine care. Outside of work, Janna enjoys spending time outdoors and time spent with her family.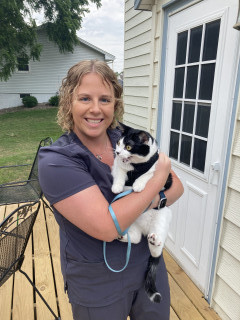 Serina, CVT
Serina graduated from North Dakota State University, earning her Bachelor's of Science degree in Veterinary Technology as well as a minor in Large Animal Technology. She received her MN State Board Certification in 2019. Serina has two cats named "Sparrow" and "Indi". She loves spending time with her parents dog "Sage", as well as reading, swimming, watching movies, and hiking.

Meghan, Veterinary Technician
Meghan graduated from Argosy University with her degree in veterinary technology. She loves all aspects of her job but has a special interest in dentistry. When Meghan is not at work she enjoys camping, four-wheeling, fishing, exercising and spending time with family and friends.