Carlos' Corner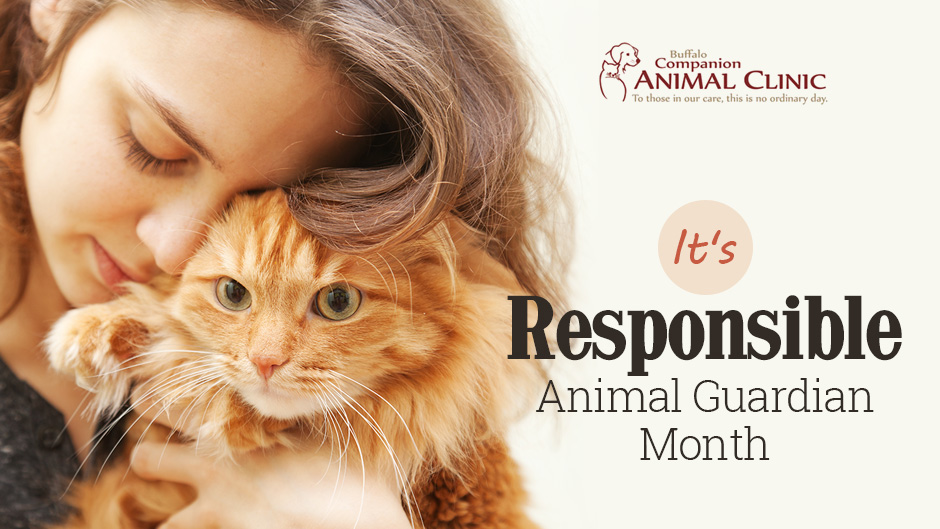 I'm lucky enough to have several people take great care of me as the clinic cat at Buffalo Companion Animal Clinic. If you're just bringing home a new pet or just want to make sure you're doing all that you can for your furry loved one, be sure to check out these tips from the folks who bring you Responsible Animal Guardian Month.
Sincerely,
Carlos
In Defense of Animals (IDA), a well-known animal welfare organization, has chosen the month of May as Responsible Animal Guardian Month. The primary purpose of the campaign is to encourage people to treat animals with more respect and to fulfill their obligation to care for those they have taken in as pets. One way to accomplish this is to use the term guardian instead of owner when referring to our pets.

Steps You Can Take to Be a More Responsible Animal Guardian
Responsible pet guardians are concerned with the physical, emotional, and cognitive health of their dog, cat, or other animal. Those who do look out for their pet's overall well-being are more likely to develop a strong bond with her. Here are some suggestions from IDA on what you can do to take the best possible care of your pet:
Apply rules consistently and invest as much time as needed in behavior training
Gain your pet's cooperation by forgoing punishment in favor of positive reinforcement

Pet-proof your home

to make it as safe as possible for her
Make sure your pet has the opportunity to socialize with other people and pets
Be sure to build play and exercise into his routine each day
Limit treats, avoid giving people food, and feed your pet high-quality, nutritious food designed for her species
Give him several minutes of your undivided attention every day
Another reason IDA started Responsible Animal Guardian Month is to encourage people to get their next pet from a shelter instead of a breeder or pet store. "Adopt, Don't Shop" is one motto of the annual campaign.

The Importance of Annual Preventive Care Exams
If you only bring your pet to Buffalo Companion Animal Hospital when he's sick or injured, we encourage you to come in at least once a year for a
preventive care exam
. This gives our veterinarians the chance to diagnose and treat issues before they become more serious and difficult to treat in the future. Dogs and cats over age seven would benefit from a check-up every six months since this is the time that many start to display age-related health problems. Puppies and kittens under 12 months need several vaccinations as well.
Please don't hesitate to contact us if you have additional questions or need to schedule an appointment for your pet. Our telephone number is 763-682-2181.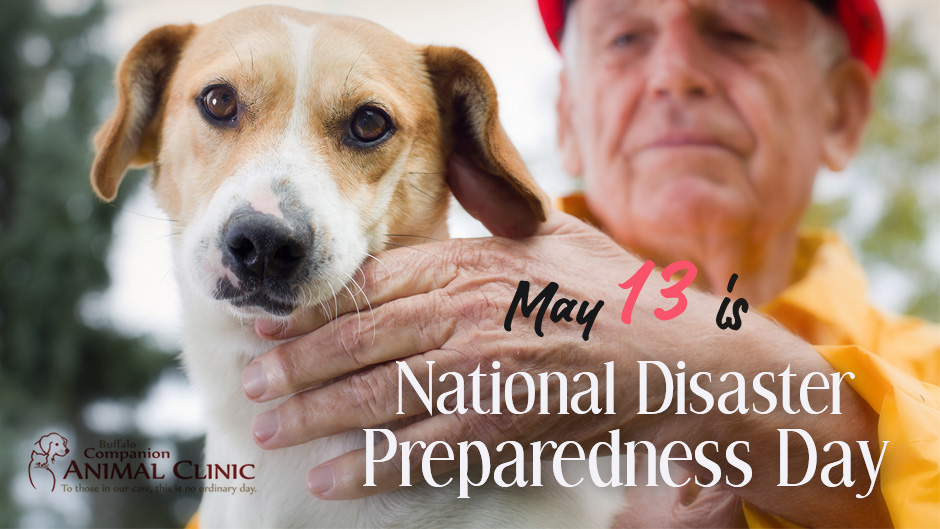 When an emergency strikes, pets like me and my friends depend on our human family to get us out of the house quickly and safely. The situation is stressful for everyone, but you can do it. The tips below will help.
With appreciation,
Carlos
How would you care for your pet in a fire, flood, tornado, blizzard, or other unpredictable event? If you're like many pet owners, you haven't given this question much thought. With National Disaster Preparedness Day coming up, we encourage you to consider preparing a disaster kit for your pet. That way you can confidently state what you would do when faced with severe weather or another type of emergency.

What to Include in a Disaster Kit for Your Pet
When a disaster strikes, knowing that you have a kit prepared and stored in a safe place can help keep you calm. According to the Centers for Disease Control, the kit should include the following at a minimum:


Written details about each pet in the event you become separated. Your notes should include your contact details, any behavior issues, feeding and care instructions, and how to contact your pet's regular veterinarian.
Water and food for each pet to last for up to two weeks. Be sure to place the food in an airtight container so it doesn't spoil and pack a can opener or scoop if you need them to feed your pet. Water should go in an airtight container and be replaced periodically with a fresh supply.
Bags for dog waste and a litter box for cats
Cleaning supplies if your pet eliminates inappropriately
Up-to-date medical records
Two weeks' worth of any prescription medications
Grooming supplies
Harness, leash, and pet carrier
Toys and pet beds
Best Practices for Creating Your Pet's Disaster Plan
It's essential that your dog, cat, or other pet has current identification in the chaos of a sudden emergency. If your pet has a microchip, make sure that you update your contact details any time you move or change your telephone number or email address. Additionally, ensure each pet has an individual carrier with your name and the pet's name written on it clearly. You may want to consider placing your pet in the carrier and going for a car ride for practice if she doesn't ride in the car often.

Another recommendation from the CDC is to place a harness or leash near every exit in your home. It may be difficult to hold a pet who is highly stressed, which increases the likelihood of him running off. By having a leash or harness available, you can safely remove your pet from the situation as quickly as possible.


We recommend that you determine where you will evacuate to before an emergency hits. If the situation doesn't call for you to leave home, choose one room in your home to wait it out with your pet. Just make sure there are no plants, chemicals, or other things in the room your pet could get into during the chaos. It's also helpful to prepare a list of pet-friendly hotels, boarding facilities, veterinary clinics, and shelters just in case you do need to evacuate.

Diseases Can Spread Quickly During Natural Disasters
When your pet is exposed to stagnant water, severe weather, wild animals, large groups of people, and other situations common to disasters, she may acquire a contagious virus. Please make sure your dog or cat is up-to-date on vaccinations with Buffalo Companion Animal Hospital. To schedule an appointment or seek help in an emergency, please call us at 763-682-2181.