Carlos' Corner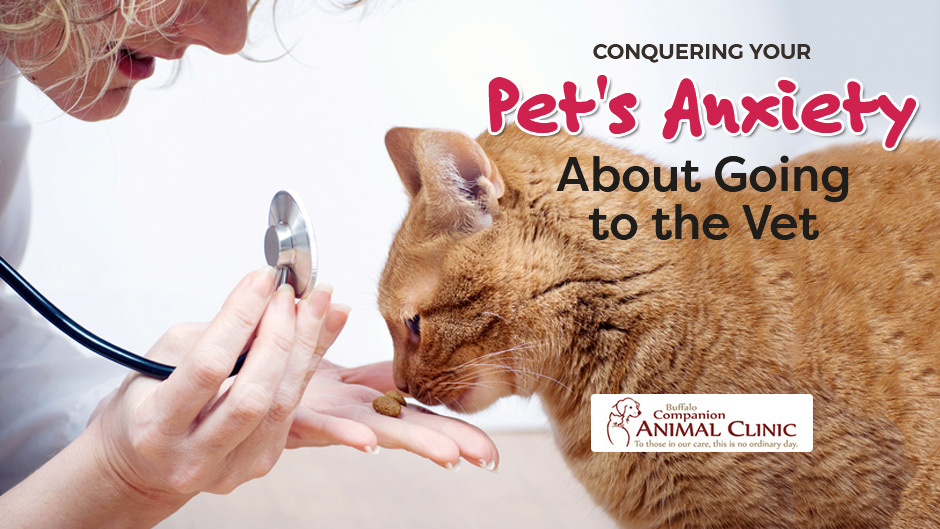 It's no big secret that dogs and my fellow cats aren't big fans of visiting the vet. It's nothing personal, really. We're just scared and don't like our routine disrupted. We know that you love us. Here are some things you can do for the next appointment to help us be cool about it.
Yours truly,
Carlos
If your pet's behavior when preparing him to visit us at Buffalo Companion Animal Clinic is exasperating, take heart. He isn't acting naughty on purpose. It is his only way of coping with an unknown situation that can make him feel highly anxious. Continue reading for specific tips on making veterinary visits less stressful for your dog or cat. And you, of course.

Taming Vet Fear for Dogs
Most dogs love riding in the car with their owners. They only object when that car ends up at the vet's office. While you're out running errands with your dog, feel free to stop in for a quick visit. We love seeing healthy pets and your dog will come to associate our office with love and snuggles and not just pokes and prods. Here are some other things you can try:

• A few hours before the appointment, spray a calming pheromone in your dog's crate, her harness, and the seat of your car.
• Make sure you restrain your dog in the car for safety as well as to help her feel more secure.
• Play calming music on the way to your dog's appointment.
• Budget plenty of time to get to the appointment so your dog won't pick up on your stress.
• If your dog suffers severe stress and nothing else seems to help, speak to her regular veterinarian about giving her calming medication before leaving for the appointment.

Taming Vet Fear for Cats
As with dogs, you're welcome to stop in the clinic with your cat any time. We hope the extra attention and opportunity to look around to his heart's desire will help to reduce anxiety. These tips should help as well:
• Bring your cat's carrier out at least a few days before his appointment. This gives him the chance to sniff it out as well as sleep and play in it. You may even want to put a treat in the carrier so he makes a pleasant association.
• You may need to enlist the assistance of another family member if you can't gain your cat's cooperation to get in the carrier on appointment day. One of you should hold the cat while the other lifts the cover off the carrier. Quickly replace the cover as the other person lets go of the cat.
• Feliway is a cat-specific pheromone that emits a calming aroma. You can try spraying it on the carrier and in the car. Do not allow your cat to roam free in the car.
• Don't rush to the appointment and try to keep the cat-to-person ratio at 1:1 if possible.

Check Your Own Anxiety
Dogs and cats are extremely perceptive and will pick up on your anxiety. Approaching the appointment in a confident, matter-of-fact way can affect how your pet feels about it. We are always happy to see your pet, even if she would rather be just about anywhere else. Our staff will do everything possible to help her feel comfortable during the visit.

Photo Credit: MTR / Getty Images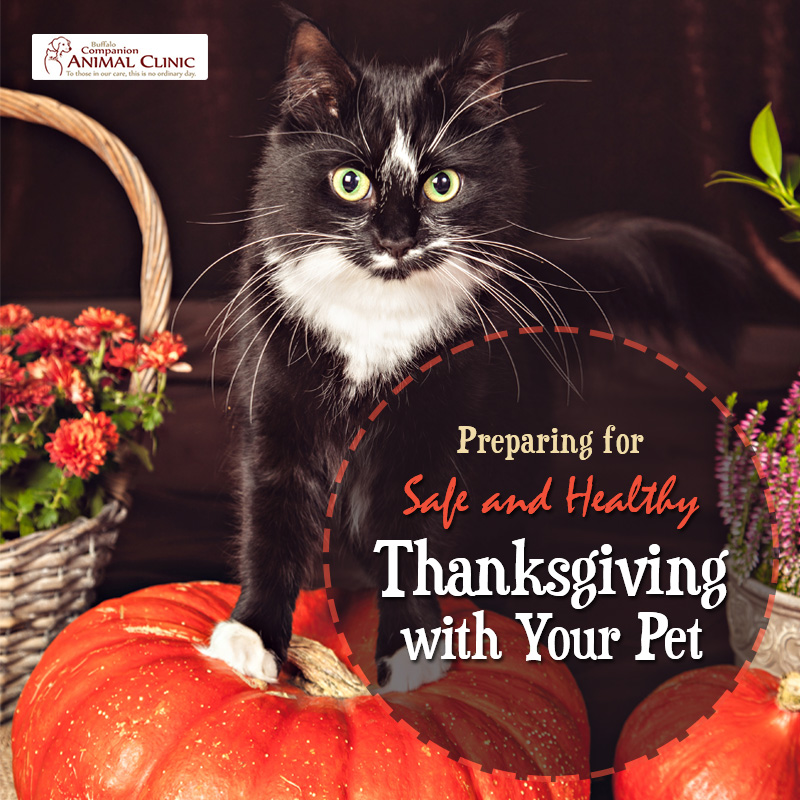 It seems cruel to be a dog or cat at this time of year. All of those amazing smells and mouth-watering food right in front of us and we can't have any. As much as we protest, don't give in and let us eat your food. We dogs and cats have sensitive stomachs and need to stick to the food made especially for us.
Love, Carlos
Being the creatures of habit that they are, dogs and cats aren't as excited about the Thanksgiving holiday as you are. There are extra people in the house, some of whom may be small children that poke at them. The smells of the holiday feast are overpowering, yet the food is not for them. Whether you're hosting Thanksgiving dinner or traveling with your pet to someone else's home, make sure that one person supervises her closely the entire day. Plan to keep your pet away from the front door as people arrive to prevent a possible escape.

If you have any concerns about your dog or cat's ability to tolerate a large group of people, keep him in a separate room until the crowd has cleared. You don't want a frightened cat biting a small child or an over-excited dog knocking your grandmother off her feet.

Should You Share Thanksgiving Treats with Your Pet?
While small amounts of certain foods might be okay to give your pet, wait until everyone is away from the table. You don't want to encourage begging behavior by feeding your pet from the same table where you eat. A tiny portion of boneless, well-cooked turkey that doesn't contain added seasonings should be okay for most animals. However, many foods associated with the Thanksgiving meal are toxic to them. These include:


Avocados
Bread dough
Cake
Chocolate
Grapes
Raisins
Sage
Seasonings
Turkey bones
If your pet does sneak one of these foods, it can cause severe abdominal upset. Some are choking hazards as well. Another thing to watch for is that your pet doesn't try to eat food wrappers dropped on the floor since these are also easy to choke on. Between the temptations of the plentiful food and its pleasing aroma, your normally well-behaved dog or cat may try finding a treat in the garbage can. This is all the more reason your pet should not be in the kitchen or dining room while the meal is prepared or served.
Prepare for an Emergency Just in Case
Since Buffalo Companion Animal Hospital will be closed on Thanksgiving, make sure you have the telephone number to the Pet Poison Helpline programmed into your phone. It is 1-855-764-7661. You can also contact
Affiliated Emergency Veterinary Service
at the location closest to you. Our entire staff wishes your family a Happy Thanksgiving.
Photo Credit: cassinga / Getty Images