Carlos' Corner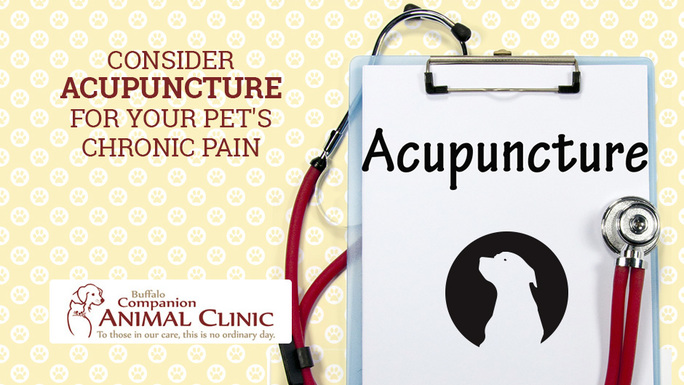 2016-03-17
Hey everyone, it's Carlos! My friends here at Buffalo Companion Animal Clinic would like you to know about a cool way to help your pet feel better.
If your pet suffers from a chronic painful condition such as arthritis or degenerative disc disease, undergoing acupuncture at Buffalo Companion Animal Clinic can finally provide him with long-term relief. Acupuncture helps to stimulate blood flow at the points where joints and muscles meet. This process helps to reduce pain, inflammation, and swelling because it stimulates the body's natural self-healing capabilities. Improving blood flow also helps to rid the body of waste and toxins while improving oxygenation at the same time.

Depending on your pet's specific diagnosis and pain level, we can use acupuncture in addition to medication or in place of it. With acupuncture, you don't have the same concerns about possible side effects that you do with medication. Over time, pets learn to enjoy each session because they associate it with relaxation and positive attention from both you and our staff.

What to Expect with Veterinary Acupuncture

Dr. Alyssa Erlandson is a veterinary doctor in addition to being certified in acupuncture since 2005. With regular acupuncture, Dr. Erlandson inserts tiny needles in your pet's body at the point where blood vessels and nerve bundles intersect. This process, called the dry needle technique, provides pain relief by improving blood flow. Other types of acupuncture that Dr. Erlandson can provide for your pet include:

• Aquapuncture: The injection of specific liquids, including diluted Vitamin B12, exerts an energetic force in your pet that pushes against diseased or painful tissues to facilitate healing.
• Electroacupuncture: This involves electrical stimulation of the body between the points where Dr. Erlandson has inserted dry needles. The electrical stimulation relaxes muscle spasms and helps to restore nerve mobility.
• Moxabustion: In addition to dry needles, applying a heated Chinese herbal compound to the painful areas helps to relieve muscle stiffness and chronic pain.

Each session of acupuncture at Buffalo Companion Animal Clinic lasts between 10 and 30 minutes. It may take a few sessions for you to notice a marked improvement in your pet's pain level. We recommend that you schedule a few sessions a week initially. After your pet starts showing steady improvement, she may only require one session every several months.

We care about animals and know how hard it is to see your furry loved one experience pain. Please don't hesitate to contact us if you have additional questions about acupuncture or would like to schedule an appointment.
Photo credit: flytosky11 | iStock